Julie Brannan, registered Network Childminder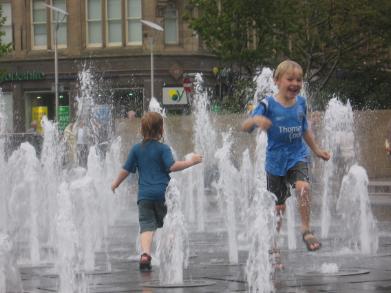 I am a registered Network childminder living in Heaton Chapel, Stockport. I have 3 children aged 29, 18 and 17, plus 2 stepchildren. Only the 2 youngest children are still at home.
I have been childminding since 2004 and am accredited to offer the free 15 or 30 hr Nursery Grant to 3 and 4 year olds, plus the 2 Year Old offer to eligible 2 year olds. Pick ups and drop offs may be possible for the 2 year old offer, depending on distance. I'm happy to share funding with other settings.
Children in my care have the use of 2 large downstairs rooms, kitchen, bathroom and garden. I am close to Highfield Country Park, local stables and have an allotment.
My background is as a Special Needs Careers Adviser. I have a degree in English and a Post Graduate Careers Diploma. I have completed the Paediatric First Aid Course, am qualified to Level 3 in Child Care and have recently taken the PTLLS course which enables me to tutor/teach other childminders. I am the support childminder for recently qualified childminders within the Heatons.
I tend to work Mon to Weds but can also do the occasional 9 to 4 on Thursdays. I work approx 46 weeks per year, taking about half of school holidays as leave. Alternatively I offer term time only contracts. I pick up from St Thomas' Heaton Chapel (infant site). I have a 3 day vacancy from September 19. I also have two after school vacancies. A full day is £40, and between £5 and £12 for after school depending on need. I can offer ad hoc hours at £5 per hour. My hours are 8-6. Contact on 0161 442 7956 or asa.teff@tiscali.co.uk